Aviva Manchester Art Fair 2018
Tomas Harker Masquerade Ball

Exhibiting at  Aviva Manchester Art Fair  this year was a wonderful experience. Elastic Space showed new work by Tomas Harker and a full range of our established artists current work. Harker's Masquerade Ball canvas  was unveiled for the first time at the show and drew critical acclaim.  This painting hints at Harker's  recurring themes of vanity, power and the faces of hegemony; the painting is enticing and at the same time subversive and disturbing.  This substantial art work stands at 280 x 180 cm over two panels. Tomas Harker continues to attract committed investors  in his painting.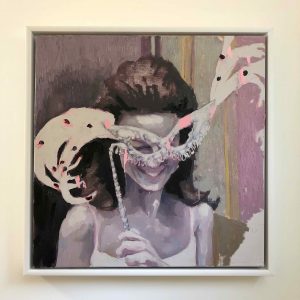 Concurrent with this piece we also  showed three new smaller paintings by Harker. Masquerade I, II and III. These works hint at decadence and societal power. They stand at 61 x 51 cm at £1800.00 each. We showed them together for impact at The Manchester Art Fair. The surface of these paintings is slightly fractured and keeps the viewers attention on his handling of the picture plane, but these works also appear to intentionally  entice  and delight the viewer.See the full range of works we represent by Tomas Harker at  https://elasticspace.co.uk/shop/tomas-harker/
All works are currently available online and to view in your homes or business premises, call us for an appointment this week 07793542824.
https://elasticspace.co.uk/product/masquerade-i/
https://elasticspace.co.uk/product/masquerade-ii/
https://elasticspace.co.uk/product/masquerade-iii/