John Hamilton at Elastic Space
John Hamilton joined Elastic Space Ltd this Spring. John's work isn't like anybody else's that I know. He bridges a wonderful space between illustration and painting. I see John as an illustrative painter and he has an established reputation as both, nationally and internationally.
The work presented at elasticspace.co.uk is a discreet selection from 4 distinct groups of his work. Go Quietly So As Not to Wake the Butterflies, Sofa Paintings, Captive Audiences and Mixed Media Collages.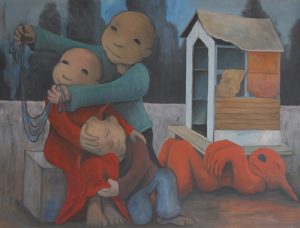 These works  remind me of my childhood and I find myself  reflecting on the way things appeared as a girl. Faces are both childlike and knowing at the same time. Who is the adult and who is the child in the paintings? The overriding feeling from these art works is one of tenderness and family. All sorts of families are presented here, human bonds are explored and displayed and there is a sense of protection in each.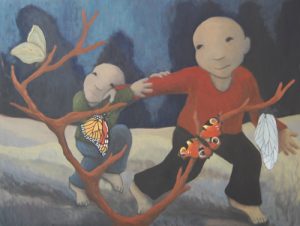 We buy art for our homes for all sorts of reasons. Paintings such as these become part of the fabric of our lives when seen daily. If we live with art around us  the images fuse with the narrative of family life, and  at the same time define the visual comfort of our homes.
John  Hamilton has just completed his second picture book 'The Girl Who Really Really  Really Loves Dinosaurs'. It will be published by  the Natural History Museum in London in June 2018.
 https://elasticspace.co.uk/shop/john-hamilton/