JANUARY EXHIBITIONS
PHREM SOLOMON: SILENCE at Kristin Hjellegjerde Gallery Old York Road, London SW18 ITG
Jan 6 – Feb 3, 2018
Private view Sat Jan 6 4pm – 7pm
Ethiopian artist Ephrem Solomon's woodcut characters populate the imagery with geometric shapes that fill the backgrounds, and the etched lines stretch around the characters mouths and foreheads. They appear confrontational, despairing and questioning. Solomon's works present a view of the urban environment, and of the people that inhabit the spaces around him. This is Solomon's second solo show and here he presents new works that have taken on a darker turn, as he passes through thoughts on life, death and physical and mental boundaries
DRAW The Thought Foundation. Mindfield Gallery Clarity House, Durham Road, Birtley DH3 2TB
Currently open to Thursday 1st of March 2018.
DRAW explores and celebrates drawing in many forms. The exhibition showcases 19 artists from the UK who all work within the arena of drawing.
Gillian Holding whose work is represented by elasticspace.co.uk is showcased in this exhibition.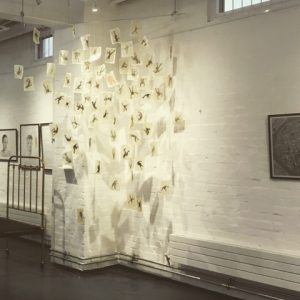 Gillian Holding 73 mixed media drawings on varnished rice paper suspended with thread
Other featured artists are Marisa Culatto, Jake Thompson-Bell, Deborah Humm, Andrea Roberts, Alan Coulson, Leanne Pearce-Billinghurst, Cally Trench. Henry Gonnet. Toby Queibell, Phil Wombwell, Nikki Alford, Juien Masson, Gareth Bunting, Glynis Lammond, John Carroll, Jeanie Driver, Jake Greeley-Ward and Jo De Ruiter.
The exhibition is free and The Thought Foundation is open 9-4 weekdays and 10-4 weekends.
Andreas Gursky
Hayward Gallery
Southbank Centre, Belvedere Road, SE1 8XX
25 January – 22 April 2018
The Hayward Gallery reopens with a major retrospective of one of the most highly regarded photographers in the world.
This is the first major retrospective of Gursky held in the UK, and many of his best-known works are among the 60 photographs on show. May Day IV (2000/2014) portrays hundreds of revellers at Germany's famous techno music festival. As with much of his work, the picture is taken above the scene, giving a spectacular birds-eye view while also capturing extraordinary detail. The same sense of both sweeping vista and minute observation is at play in Paris Montparnasse (1993), a depiction of a vast block of flats that, within the photograph, never ends.
Stephen Campbell-Love
At Tramway – Glasgow.
25 Albert Drive, Glasgow South Side G41 2PE
20 January 2018 to 25 March 2018
Love, at Tramway, is an exhibition of twelve large scale multi-media collages made between 1988 and 1991 by Steven Campbell, one of Glasgow's most celebrated artists.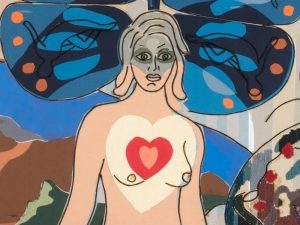 Diptych, Triptych, Polyptych At PS Mirabel,
Mirabel Street, Manchester M3
Preview January 11th
Louise Garman and Valerie Zwart who are represented by elasticspace.co.uk feature in this exhibition opening on January 11th 2018.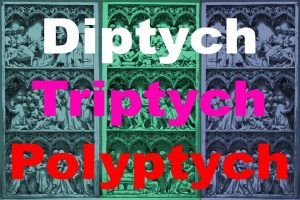 The Long View
At The Great North Museum: Hancock, Newcastle Upon Tyne January 20th-March 4th 2018
The Long View exhibition begins with seven remarkably ordinary trees and reflects on what it's like to visit them, again and again, in all seasons and all weathers, and to walk between them in one seven-day-long journey.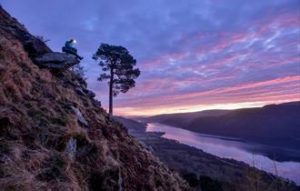 A two-year project carried out by photographer Rob Fraser and writer Harriet Fraser, The Long View depicts seven trees in Cumbria through colour images, black-and-white hand printed photographs, poetry and land art.
The work highlights seven individual trees as representatives of trees across the country, and offers an invitation to pause and step, briefly, into tree time.
Break in Transmission
The Holden Gallery, Grosvenor Building, Cavendish Street, Manchester, Greater Manchester, M15 6BR
January 22-March 16th 2018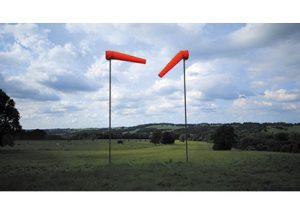 The artists in Break in Transmission have a shared set of concerns in the pleasures and pitfalls of language, communication and meaning, and a fascination with the process of the transmission of information.
The exhibition includes the work of Meriç Algün Ringborg, Fiona Banner, Sam Durant, Shannon Ebner, Kerry Tribe
On the surface, the act of translation is relatively simple – the everyday process of one thing being translated into another. With language there is usually an equivalent word or phrase, even if variations allow for some degree of preference or selection. As we move beyond language and start to translate from one type of thing to another, more complications occur. How do ideas take on visual form? How might emotion turn into action? In the transmission of information there are always differences and distinctions which occur as part of the process. For Break in Transmission there is a specific interest in the pauses, gaps and breaks that can happen along the way.
Age of Terror: Art since 9/11 At The Imperial War Museum, London
On now Until Monday May 28th 2018

A little pat … Jitish Kallat's Circadian Rhyme 1 (2011). Photograph: Anil Rane/Thelma Garcia/Galerie Daniel Templon
This exhibition has had mixed reviews and I personally think it's been given a hard time by the critics. You could argue that there is popularist and sensational aspect to the both the idea and the title. However, you are confronted by a series of works that attempt individually to take on the enormity of how one event changed attitudes to terror and the ways in which it has been reported.
The show begins with the event itself through to the immediate days after and then importantly onto the increased security that became a daily feature of world news.
This exhibition is not just about 9/11 it is a contemporary commentary on the ways in which artists respond to terror and war, 9/11 is just a starting point. The exhibition features The Chapman Brothers, Hans-Peter Feldmann, Ai Weiwei, Lida Abdul, Walid Siti, and Hanaa Malallah.
It's not an easy exhibition to visit but neither should it be.
CATCH THEM BEFORE THEY CLOSE.
Joseph Beuys at Leeds Art Gallery. The Headrow, Leeds, West Yorkshire LS1 3AA
Beuys last exhibited in Leeds in 1983 with his exhibition Drawings. This is worth the visit; The Gallery looks fantastic after its refurbishment. This exhibition really does describe Beuys persona. It speaks about the development of the language of sculpture in is terms. You get a very real sense of him as political and social activist and also as Beuys as an educator to a generation of artists.
Last but not least
Jean-Michel Basquiat Boom for Real (1960—1988)
Barbican Centre, Silk St, London EC2Y 8DS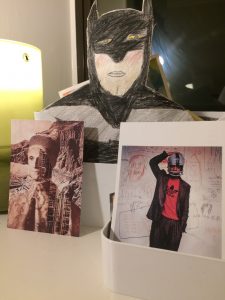 Basquiat and Doge on my desk.
Just make sure you go!
Late opening until 10pm on Tuesday–Saturday throughout January (until Saturday 27 January).