A NEW WAY OF BUYING ART
Elastic Space offers both individuals, private collectors and corporate clients a secure way to buy art for their homes and businesses.  Buying art is a wonderful experience, it feels like nothing else. I established Elastic Space to provide a personal service that allows you to choose art for your home and place of work. We love Art and the artists we represent have been chosen carefully with a keen eye for art market trends and distinct contemporary appeal. Here we have art for everybody and you can choose at ease. Discovering a work of art that makes your heart skip a beat is exhilarating experience, we want you to be delighted with the art you choose.
We buy artwork for all sorts of reasons; whether you want  a statement painting to add significance to a room in your home or represent the ethos of your business, the development of your art collection starts here.
RUTH DAVIES
For over twenty-five years I worked as a University Senior Lecturer in Art History. If you are buying your first artwork or are a seasoned collector I am delighted to help you  source and choose art for your home. I acquired the works in my collection because of the way they made me feel and I love to live with them every day.
I have continually worked with emerging artists within the Contemporary British Art Scene and have an excellent knowledge of current Art markets. I work with artists who have developed a strong professional practice. Here we bring together expert knowledge of Fine Art with a host of professional artists to fulfil your vision for your home and work environment.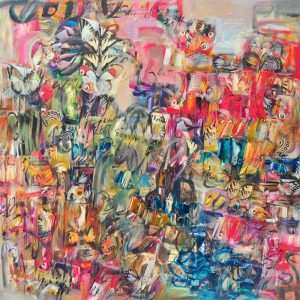 WORKING TOGETHER
Through an informal  consultation we can establish  art that appeals to you. We will take the time to understand your style, the space and any other art you may already have. You decide which pieces of art you would like to view, alternatively I can help you with that process. We offer you the opportunity to  view the pieces of art leisurely, before you decide if this is the right piece for your home or office.  We can also discuss your framing and hanging requirements so that your work arrives with you ready to be seen.
I work with artists who produce works for sale that start at £90, we work with all budgets. All  of the artists have developed a solid professional practice and many offer an investment potential based on their sales  and exhibiting history.
BUY DIRECT
If consultation is not for you, simply choose and buy directly from our online gallery, this will be swiftly delivered to you expertly packaged. Larger works will be handled by our specialist Art movers and this is a worldwide service. All works carried by Elastic Space are original and signed by the artist. Limited edition prints are also signed. Your artwork is provided with a signed certificate of provenance.
I understand that when you are buying art for your home some pieces will be must haves, and some will take time to find and feel sure about, its important that we make it meaningful for you. Our service is  flexible and will help you  create  the spaces you want at home with confidence.

START YOUR COLLECTION
The world's finest art collections began with a single purchase! As well as helping clients to expand existing portfolios, I have inspired and assisted many more people to start exceptional personal collections. This is an exciting process that can ignite a life-long interest in Fine Art. We can curate with you and together develop a collection that reflects your personality, represents family traditions or projects your individual tastes and style.
INTERNATIONAL ART
If you wish to expand your art collection with international acquisitions, I can source and secure specific pieces and aid you in assessing and evaluating images. We have expert experience of the European Art markets and  can act on your behalf at auctions in Europe and the USA.
GIFTS
If you are buying Art as a gift, please let me know. You may  be interested in buying a Gift Card as a present for any amount from £100-£5000. Your gift card will include the same levels of service and consultation.
CONTACT
This is a New Way of Buying Art. To learn more about individual pieces, discuss a project or arrange an appointment, please contact Ruth Davies at Elastic Space.
Phone: 07793542824
Email: ruthdavies@elasticspace.co.uk